Mother's Day: Life doesn't Come with a Manual; it comes with a Mother!
We all have heard people saying that God could not be everywhere, so he created mothers. This is incredibly accurate as nobody in this world can manage everything as a mother does.
She can take anyone's place, but her place is sacred and cannot be filled by anyone. To every Mom out there who is just a mother for the rest of the world, you are the whole world to your family. Mothers have a job to manage everything, be it their household, kids, or even work. They cater to every aspect, take care of everyone in the family, and work 24*7 throughout the year without a day off.
Just a single day off or a single thank you can never be enough and suffice for what they do. But it is all we can do as no amount of effort can match the things they do and the unconditional love we receive from them. So on this occasion of Mother's day, let your Mom have a day off at least. To celebrate the same occasion and express our love and gratitude for all the mothers around, we have a few real-world stories telling us how loving and brave mothers are.
 Story 1- Mohammed Muddasir, Bangalore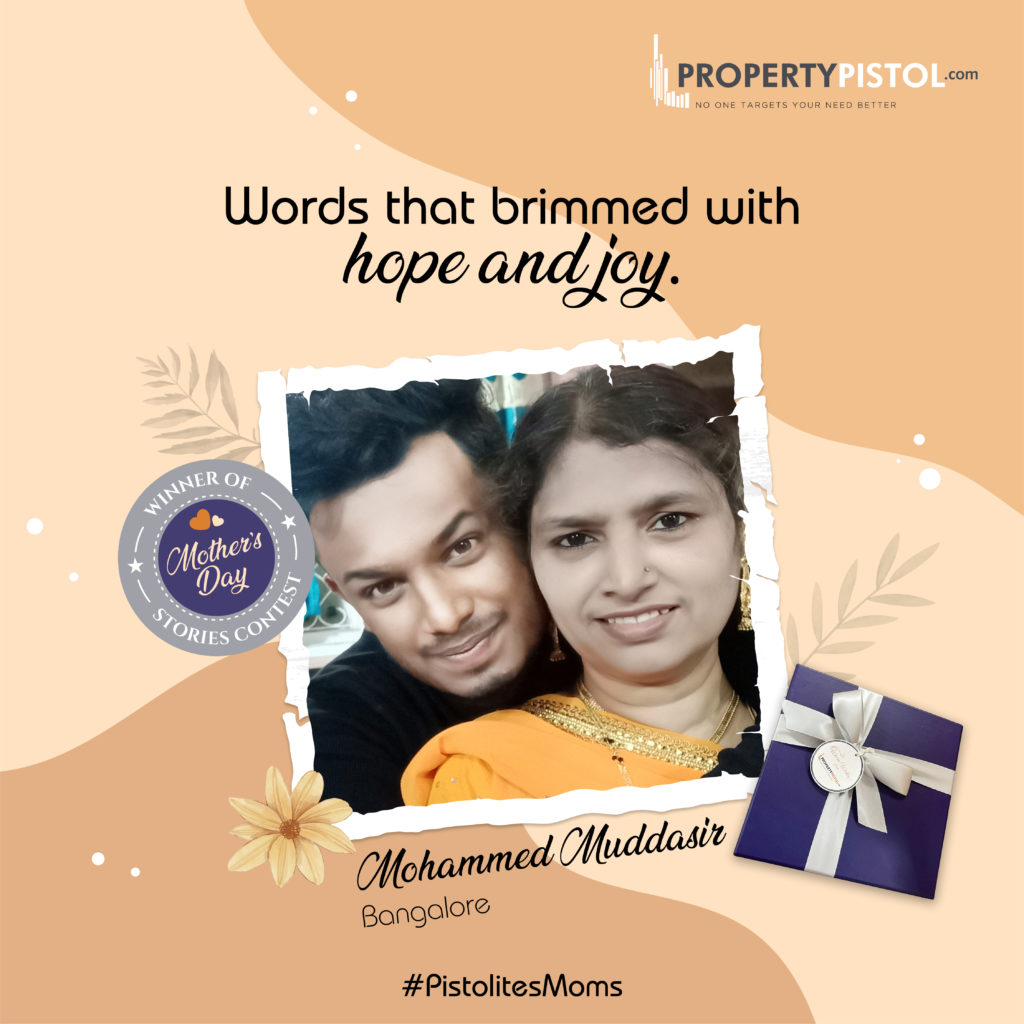 My Mom's name is Mrs Jabeen Taj; she was born in a low-income family in a small village. She got married at 18 and was very weak with highly complex health conditions during her pregnancy, even the doctor advised an abortion, but she refused. During the 9 months of her pregnancy, she was awake the whole time, and when it came to the time of the delivery, it was another challenge. The doctors said that the chances of survival were negligible, but she went through it all, and after a successful operation, she gave birth to a baby boy, me.  
Despite the tremendous amount of pressure from the family and the doctors, she never gave up; if not for her, I wouldn't be able to come to this world. She is a warrior, every Mom in this world is a warrior, and none can take the place of a mother.
She is like a lone warrior who handles and manages the whole family without a single day off, the person who always makes us eat more and eats after us, and lots of love to all the mothers around.
Love you, Mom! ❤️❤️
 Story 2- Sangeetha Jeevan, Mumbai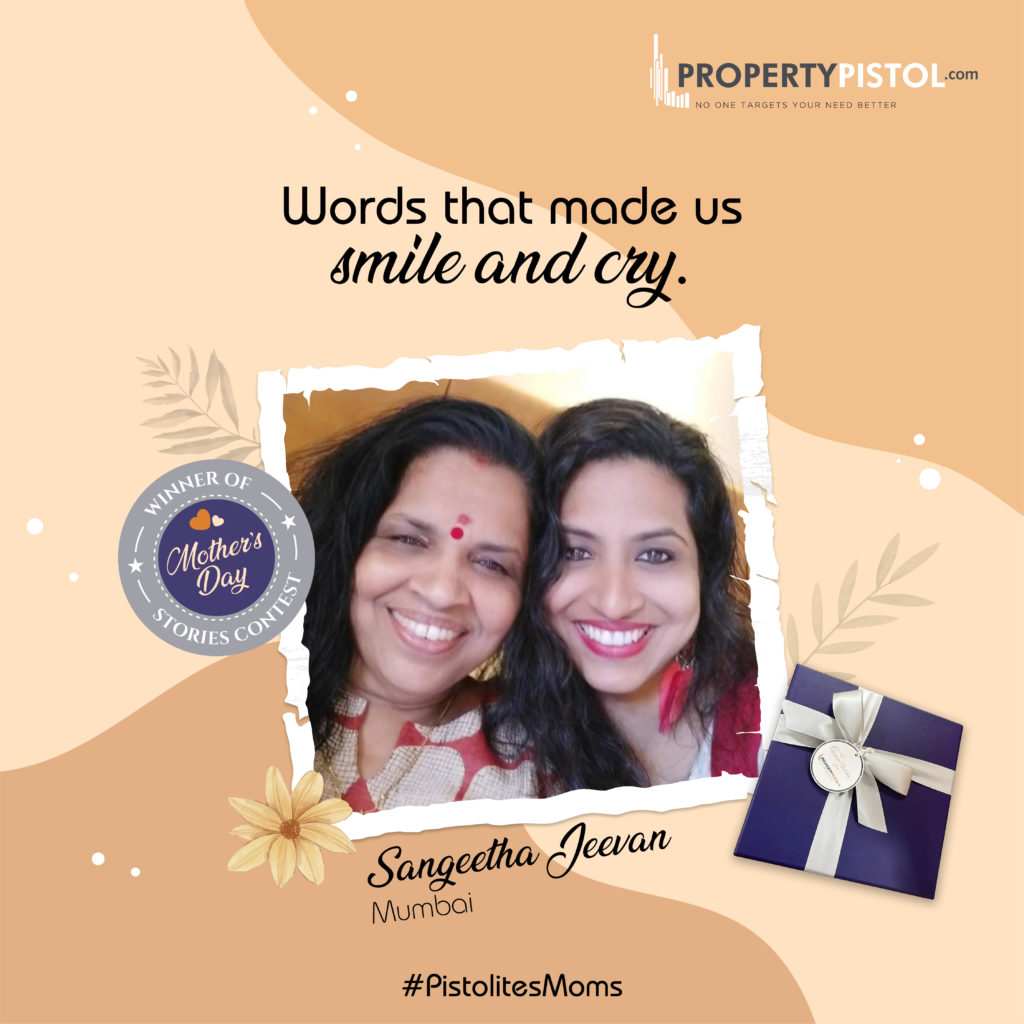 My Mother Is a Hero, and I do not remember taking this statement seriously until August of last year when my Mom was diagnosed with cancer. Of course, she was heartbroken the way we all were, but what stood out was her determination to accept life and move ahead despite knowing about the numerous setbacks and challenges ahead.
There have been days when she's very low, but she makes sure she's back in action if she feels even the slightest bit of energy running in her body. All I can say is that she's put on the armor and has been fighting like a true warrior. She's fabulously recovering and has loads of to-do's that she looks forward to once she is out of this.
Today, the last chemo session starts, and she's super excited to get through this soon. This Mother's Day is extra special because Mom has unknowingly taught me how precious life is. I have been fortunate enough to have her with me during this phase. God knows there is a lot I have to learn from her positive and never-give-up attitude. She's proven why you need not get depressed and have to give life your everything to make it work.
She amazed me when she once told me that she's thankful for this phase as it made her stronger spiritually. Despite being on the receiving end of a crisis, she exuberates a lot of positivity to each one of us. All I wish and pray for this Mother's Day is for my Mom to recover, come back stronger, and live the rest of her life just the way she wants.
She's literally exemplified that 'She really is a Hero.'
Story 3-Naresh Kumar N., Chennai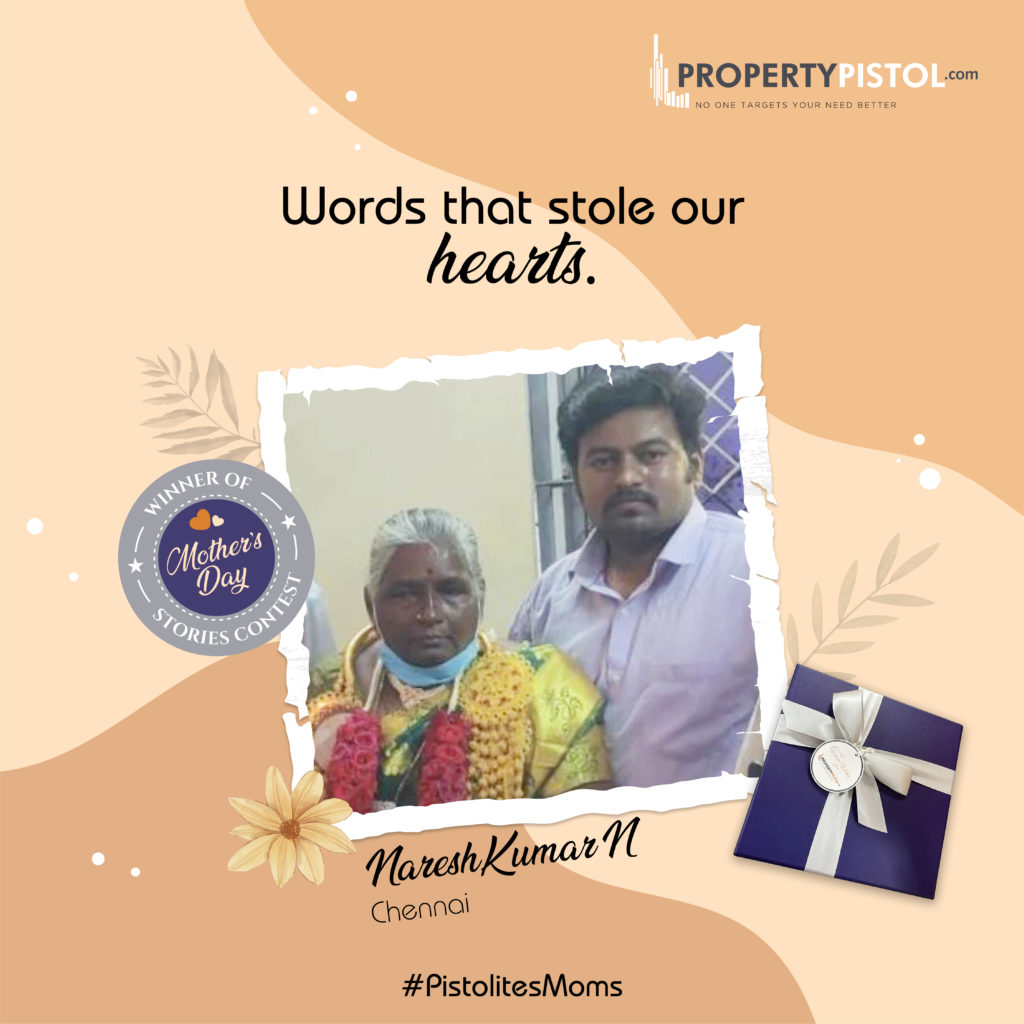 My Mom is no less than an 'Iron Lady'; she is the source of my strength in this world. In the early days, my father's salary was just a meager sum of ₹900 per month until I completed school, but my Mom never lost hope and confidence. She took a loan from the government and bought two cows, and within a span of four years, she expanded her business with 15 cows.
My sister and I completed my education with that income only, and there is an instance from my life that I can never forget. One day while playing on the farm, I got a snake bite; not knowing if it was a venomous snake or not, I went to her. Without asking for help from others, she just borrowed the neighbor's TVS excel and drove me to the hospital; before that day, I had no idea she could drive.
As a kid, she used to teach me how to swim as she was an excellent swimmer herself. There was a 40-feet tall mango tree in my grandfather's estate that even men hesitated to climb. But she was the only one who could climb all the way up and get me the juicy fruits making her my 'Superwoman.' When I was in class 10, I had a crush on my sister's friend, who was in 12th and two years older than me.
As moms know everything, when she found out, she patiently explained everything to me about the respective changes happening as we grow and how the feelings and body change. She even taught me how to behave and treat a woman right correctly. Even after all this while, she still teases me about that innocent childhood crush.
A few years back, my Mom met with an accident resulting in a 2 years of bedrest. Even after the recovery, her left hand & leg could not function well, and she could not walk properly either. But still being the warrior she is, my Mom fought her way through and still managed to take care of the household.
Even though she is from a well-settled family, she adapted to my dad's lower-middle-class life and managed everything well. I might not be much of a story writer, but Mom is the most significant and bravest woman I have ever come across in my life.
Wrapping Up!
Indeed, all the three stories posted above were genuinely inspiring and mesmerizing. They showed us how moms are no different than warriors who keep going regardless of the harshness and proudly wear their battle scars. While this was just a glimpse of how amazing moms are, we have more stories around the world. What is your story like?
Disclaimer: The views expressed above are for informational purposes only based on industry reports and related news stories. PropertyPistol does not guarantee the accuracy, completeness, or reliability of the information and shall not be held responsible for any action taken based on the published information.
(Visited 280 times, 1 visits today)